Click on the following link to quiz on the book you have read most recently:
https://ukhosted82.renlearn.co.uk/1897015
About Accelerated Reader
http://www.renlearn.co.uk/accelerated-reader/
Accelerated Reader is a powerful tool for monitoring and managing independent reading practice, motivating your children to read for pleasure.
Appropriate Challenge
Pupils develop reading skills most effectively when they read appropriately challenging books – difficult enough to keep them engaged but not so difficult that they become frustrated.
Recent studies indicate that when students spend 25 minutes a day reading suitably challenging books which they successfully comprehend (demonstrated by achieving 90% or more on the reading practice quiz), then they will achieve optimal reading age growth.
At its heart, Accelerated Reader is simple.
A child reads a book, takes an online quiz, and gets immediate feedback. Children respond to regular feedback and are motivated to make progress with their reading skills.
When students finish a book, they should quiz on that book as soon as possible – ideally within 24 hours to ensure the best score.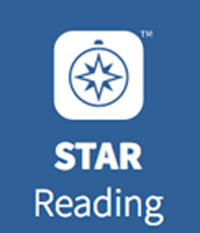 Star Tests
Students are Star Tested at least three times a year.
In a star test, students answer approximately 30 multiple choice reading questions based on a number of passages.
Each test is tailored to individual students.
Each question answered correctly moves students onto a more difficult question.
When questions are answered wrongly, the next question is lowered in difficulty.
The result provides a range of information about a child's reading age, range of development and a National Curriculum Level indicator.
How to Quiz
https://ukhosted82.renlearn.co.uk/1897015 – To log on and quiz
Click on the orange Accelerated Reader icon to quiz on your book:-
What books are supported by Accelerated Reader?
Click the following link to search whether your book is supported: